How to Change a User's Role in WordPress
By Archie
| 3 April 2020
Ensure each WordPress User has the right level of access
In WordPress there is not just one type of user. Instead, there are multiple types which allow for different WordPress capabilities to become available depending on the user's role. Let's look at how an administrator can change a user's role.
WordPress has six types of roles that a user can be assigned to.
Six types of WordPress Users
Super Admin – somebody with access to the site network administration features and all other features.
Administrator – somebody who has access to all the administration features within a single site.
Editor – somebody who can publish and manage posts including the posts of other users.
Author – somebody who can publish and manage their own posts.
Contributor – somebody who can write and manage their own posts but cannot publish them.
Subscriber – somebody who can only manage their profile.
If you wish to change a user's role, you need to be either an Administrator or Super Admin to have these options available to you.
How to Change a User's Role
To change a user's role, you first need to access their Profile screen in the WordPress administration area. To view all users who have registered with your site, select the Users menu item, or hover over Users and select All Users from the sub menu.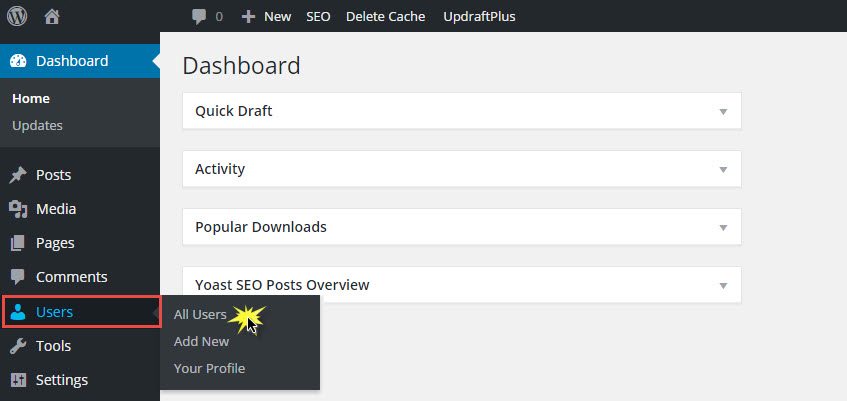 This will take you to a list of the users currently registered with your website. Scroll through the list until you find the user you wish to change the role for and select their name to enter their user profile screen. On this screen, you can update various user details, including their assigned role for your website.
Select from the available options in the Role drop down menu. Note, your currently assigned role will not be listed in this drop down because it is already assigned. Once you have assigned the role you want to assign the user, remember to select Update User to ensure these changes are saved.