We shook up industry expectations to create a whole new standard in carpet websites in Australia. And our client couldn't be happier.
User experience design that counts
Carpet One is an international cooperative with over 1700 retail stores worldwide. The Carpet One Australasia website was out of date, difficult for them to update and didn't communicate the large range of flooring products.
We convinced our client to buck the industry norm of vague product catalogues with no pricing and put all of their product online with pricing. We wanted every Carpet One customer to know what product they could buy and at what price.
A website should be so much more than just a brochure on the internet, and we wanted to ensure Carpet One was using technology to its best advantage. We took a look at the current user experience and worked with our client to design a site that would become a game changer for the Australian flooring industry.
We delivered a fully content managed solution that not only enables Carpet One's head office to update the corporate site, but also update each individual store's related site and local product catalogue and pricing.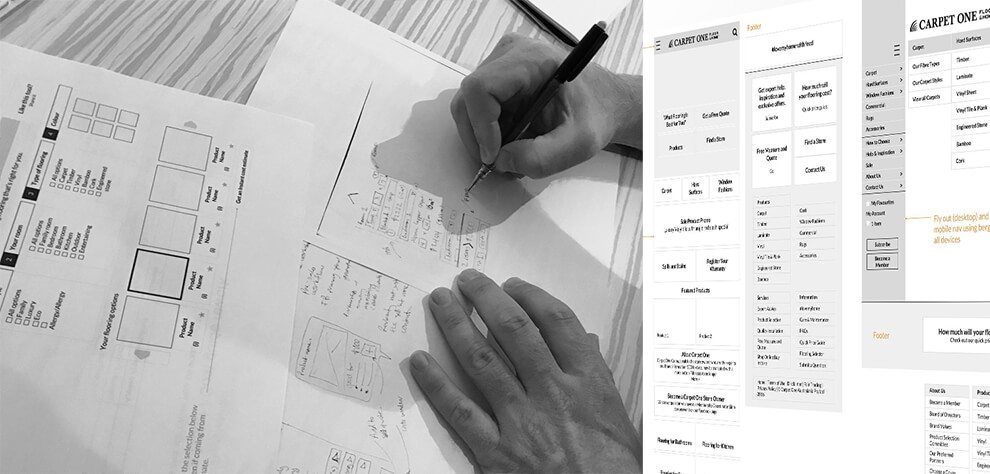 We wanted to deliver everything that is great about Carpet One direct to its customers without them having to work hard to get it. We designed a website like nothing that had been done before. No other flooring website offers as many products, in as much detail or with as many features (and, we think, with as much style).
The innovative quote calculator dynamically pulls appropriate data for each product, enabling the user to get an approximate price for their total purchase in a matter of seconds. They can even include the cost of underlay and installation for a true picture of their total costs, and there is an option to ask for an official quote or to get in touch with their local store.
And our up close and personal images – showing flooring at 100 per cent of its actual size – allow users to see what each product really looks like. That means you can use your phone or tablet to see how your new carpet will look with your walls and your furnishings before you make your final decision.
Results you can't argue with
The site has been a huge success for Carpet One – measured not only by stats but by foot traffic in the stores. Our client was looking for a way to revolutionise the digital space for carpet sales, and together we achieved just that.
The trick for us was to focus on spending money in the right places that would best drive traffic and translate into sales and customer engagement. That meant placing emphasis on a quality marketing strategy, images, copy and calls to action. The technology was there to support the marketing agenda, not aimlessly suck up the marketing budget.
Our charter now is to continually grow and improve the Carpet One website so that each store owner and their customers can benefit. We're currently working on new batches of content, new and improved categorisation of products and better promotional aids that will work hand in hand with our key campaigns.
In a fiercely competitive market, Mettro continues to keep our brand at the top of our customers shopping list. Not an easy feat by any imagination, as our customers' demands for information and how they receive it change daily. Mettro's unparalleled enthusiasm to be at the forefront of technology, combined with our absolute trust in them to go along for the
ride, means our brand is increasingly recognised as a benchmark in relevant customer engagement and lead generation practices. We expect our brand to push boundaries and remain at the cutting edge of retail, and Mettro is integral to us having the confidence to take the calculated risks to achieve it. I highly recommend Mettro.
David Meyer, General Manager
Carpet One
Web Award
Retail Standard of Excellence